17 Seater Tempo Traveller Hire in Delhi Noida Gurgaon :
We offer 17 Seater Tempo Traveler on Rent in Delhi to Other city tour package for family holidays trip, 17 Seater Tempo traveller for shimla manali tour package, 17 Seater Tempo on rental Delhi to Agra same day tour package, Luxury Tempo Traveller hire from Delhi to Rishikesh Tour Package, 12 Seater Tempo Traveller Delhi to Shimla Manali Summer Tour Packages, 17 Seater Tempo Traveller on Rent in Indirapuram Ghaziabad UP. And searching tempo traveller agency in Delhi, 15 Seater Tempo Traveller Vehicles is very suitable for Family Picnik and friend group tour package and tempo is best option for comfort and safety journey.


17 Seater Luxury Tempo Traveller Features :

1 - 12 Pushback Seats with Sofa Cum Bed
2 - Sound System
3 - Mobile Charging Points
4 - Fully Leather Seats
5 - Ample leg space
6 - Neat & clean seat covers and curtains
7 - Color LED Screen
8 - Both AC & Non AC
9 - ICEBOX, First Aid Box
10 - Driver and Cleaner in Uniform
11 - Friendly Driver
(Terms and Conditions to Hire Tempo Traveller for Outstation Trip)

Time and Kilometers will be calculated from Delhi Garage to Delhi Garage.
Driver Allowance Rs.350 per day.
Government Inter State Taxes, Toll Fees and Parking will be charged extra as actual.
Minimum 250 km perfect will be charged for Outstation Tour.
Not Including All Government Monument Tickets, Trains, Flights and other charges.
Includes:
Friendly and responsible driver.
Vehicle Fuel.
Neat and Clean Cover for Every Seat
Good Sound Music System
NOTE :- A/C Could Not Allowed Hill Area .
Ac Tempo Traveller Hire in Delhi
Rated
4.6
/5 based on
185
Reviews
---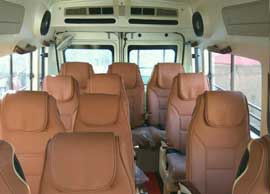 We offering best rates for hire luxury 2x1 Seating Tempo Traveller Called 12 Seater Tempo Traveller for Outstation Tour for Family Tour, Group Tour, Corporate Tour and Office Staff Tour. We always best support for hire 12 seater Tempo Traveller in your local area pickup and drop. 12 Seater Tempo Traveller is very comfortable for Long Tour like - Jaipur Tour, Shimla Tour, Manali Tour, Dharamshala and Dalhousie Tour, 12 Seater Tempo Traveller customer can hire from his own place by our company. If planning to go any hill Stations Places from Delhi Then 12 Seater Tempo Traveller is good option for Hire. 4 or 5 Couples Can Hire This 12 Seater 2x1 Seating Luxury Tempo Traveller to Go Any Hill Station Area - Manali, Kasol, Nainital, Kasauli and Dharamshala and Dalhousie.
more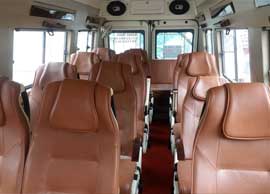 15 Seater Luxury Tempo Traveller is Good Option for Big Family Tour. 12 Pushback Seats and 1 Sofa Cum Bed Option Here for Relax in Your Journey.15 Seater Tempo Traveller is very popular for Manali Tour, Shimla Tour, Best Per K M Rates for 15 Seater Tempo Traveller, Rent 15 Seater Tempo Traveller Book in Delhi, For Manali Tour Good Option 15 Seater Tempo Traveller, 15 Seater 2x1 Seating Tempo Traveller with Sofa Cum Bed Option, Dharamshala Dalhousie Tour and Nainital Jim Corbett Tour, 15 Seater Tempo Traveller on Rent from Delhi to Agra Same Day Tour Package. Golden Triangle Tour by 15 Seater Luxury Tempo Traveller Hire from Delhi, 15 Seater 2x1 Tempo Traveller for Rajasthan Tour.
more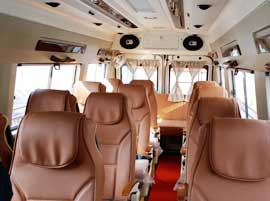 16 Seater Tempo Traveller is Very Demanding in Market For Group Tour, Corporate Tour and Family Tour. There is Good Option 12 Complete 2x1 Seating and Also There is one Sofa Cum Bed for Sleep Two Person in During of Trip. 16 Seater Luxury Tempo Traveller Always Hire Before 2 Month in Season Time. 16 Seater Tempo Traveller on Rent in Delhi Noida Gurgaon NCR India, 16 Seater Tempo Traveller On Hire for Rajasthan Tour, 16 Seater Tempo Traveller Hire in Rohini, 16 Seater Tempo Traveller Hire in Pitampura Rani Bagh, 16 Seater Tempo Traveller Hire in Tagore Garden, 16 Seater Tempo Traveller Hire in Rajouri Garden, 16 Seater Tempo Traveller Hire in South Delhi, 16 Seater Tempo Traveller Hire in Tagore Garden, 16 Seater Tempo Traveller Hire Paharganj, 16 Seater Tempo Traveller Hire in Dwarka, 16 Seater Tempo Traveller Hire in Uttam Nagar, 16 Seater Tempo Traveller Hire in Janakpuri, 16 Seater Tempo Traveller Book Rental in Delhi Noida Gurgaon Ghaziabad and Indirapuram. Big Family Always Hire 16 Seater This Tempo Traveller for His Comfortable Journey.
more
Luxury 2x1 Tempo Traveller Delhi Noida Gurgaon ghaziabad :
Car Rental services Delhi Noida Gurgaon Indirapuram :
Ac Tempo Traveller is best tempo traveller agency in Delhi Noida Gurgaon Faridabad Ghaziabad Indirapuram to Outstation Tour for Family and Group Tours. We Provide also 2x1 17 Seater Luxury Tempo Traveller for very comfortable journey. Need 17+1 Seater Tempo Traveller with Sofa Cum Bed, 17 Seater Tempo Traveller Hire from Delhi to Agra Taj Mahal and Fetehpur Sikri, 10 Seater Luxury Tempo Traveller for Jaipur Rajasthan Tour, 17 Seater Tempo Traveller Delhi to Shimla Manali Chandigarh, Delhi to Haridwar Rishikesh Tour by 17 Seater , 17 Seater Ac Luxury Pkn Modified Tempo Traveller on Rent in Delhi, 17 Seater Big Vehicle for Outstation Tour, 17 Seater Tempo Traveller for Local Sightseeing, 17 Seater New Pkn Tempo Traveller, 17 Seater Tempo Traveller with Sofa Seats, 17 Seater Ac Tempo Traveller Booking, Delhi to Vaishvo Devi Tour by 17 Seater Tempo Traveller, Delhi to Amarnath Yatra by 17 Seater Tempo Traveller, Delhi to Salasar Khatu Shyam Tour by 17 Seater Tempo Traveller, Delhi to Agra Jaipur Golden Triangle Tour by 17 Seater Tempo Traveller, 17 Seater best Rates in Delhi per km at Actempotraveller.com